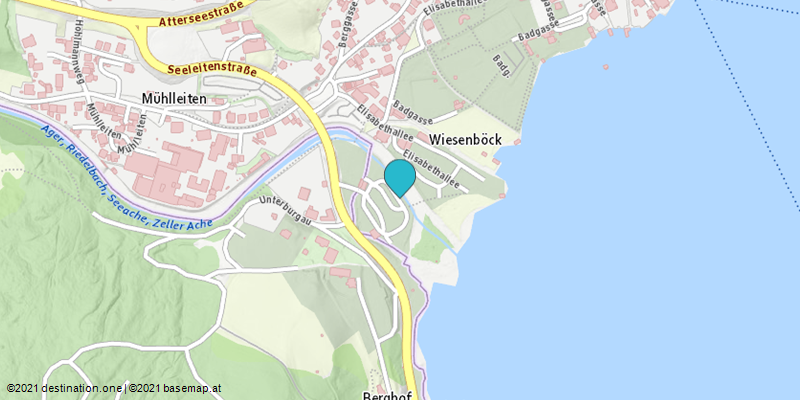 Inselcamp
Special features
Wifi (free of charge)
Pets allowed
Directly on a lake
Welcome to the Island Camp!
From May 1 to September 15, we are here for you


In Unterach, also known as Little Venice is situated on the southern shore of Lake Attersee, nestled between mountain sheep and Höllengebirge our little paradise. Our guests can expect a generous, park-like setting with 100 tourists and 40 permanent parking spaces. Except for the plots on the water, there is no subdivision. On a camping field, here is not available when guests will also find place.

For families with children, it is paradise.

Crystal clear water surrounded by a magnificent mountain scenery, beautiful meadows and forests. Not only bathers at your expense. If you want to actively shape his vacation can explore the beautiful countryside by bicycle and take a tour around the Attersee, Mondsee, or any other lake in the Salzkammergut. Our campsite is the ideal starting point.

Walkers and climbers have plenty of opportunities to experience the pristine nature of the Salzkammergut, a hike on iron Auer Alm, the Hochlecken, Schoberstein wherever, the mountains are calling!

Opportunities for excursions there are also enough. How about a visit to the Festival City to Salzburg. Or to Bad Ischl where Emperor Franz Josef and Sissy enjoyed the summer. Connect it to a visit to the European spa. City Hall, Gmunden, St. Wolfgang, and more, in a very short time you are there.

With us you will feel comfortable guaranteed!

Legal contact information
Inselcamp

Inhaber/in: Marie-Luise Sperr


General price information:
Pitch & passenger tariff

Season (HS) July, August.
Low Season (NS) March, June, September

All the prices (incl. VAT.) For an overnight stay to 11 clock in the morning of the following day.


For a caravan (camper) -Stellplatzreservierung please even the length (of your caravan incl. Drawbar) specify.

No reservation fee, no deposit required.
Reservation possible from 7 nights.

Place wishes, we will take into account as far as possible, but we have NO subdivision (except "Seeplätze"), we reserve the right if necessary, to reserve a place other equivalent.

A reserved space is kept free to 18.00 clock on arrival said, there is no notification until then your part, exempts us from any further obligation.

EARLY DEPARTURE (OF 3 NIGHTS AND MORE) IS A CANCELLATION FEE OF € 60, - PRICED !!!

For our guests with tents tent meadows are available - for this (not parceled) can generally be NO Reservation will be accepted.

City tax:
€ 2.00 tourist tax per person (from 15 years on) and day. Prices are exclusive city tax.
cancellation terms and conditions:
Austrian Hotel regulations apply for cancellation conditions
Payment methods

Visa

Mastercard
Unterkünfte